She has enough class and clout that when Barbara Kingsolver's editors presented her with her book tour schedule for
The Lacuna
and asked her if there were any cities they'd missed, she added Asheville. (After all, the latter half of the book takes place there.) Not only did she add Asheville, where I heard her read last night, she added it first,
before
the release date.
Apparently this caused some consternation and hyperventilation on the part of the marketing department, but it happened, because, really, who is going to argue with Barbara Kingsolver?
She appeared on stage in red boots, and dark clothing accented by a bright red scarf decorated with shiny silver somethings that made it glitter--and all the poise in the world.
Do I have to tell you she is one of my favorites?
She tried not to give too much away reading carefully selected parts of the story, frequently saying things like, It's complicated. You'll figure it out. Though she did call attention to the fact that parts of it are written as journal entries by a boy/man who wants to disappear, so never uses the first person. This feat caused her to rewrite some scenes close to one hundred times she said, trying to find the voice, to make it sound authentic and not contrived or stilted.
She read with a fantastic Spanish accent the parts that happened in Mexico. She no doubt learned that during her years in Tucson, where I first met her at a book signing while I was nannying between college years. And the parts that happened in Asheville were read with an authentic southern Appalachian lilt and sway that she would have learned in her youth and hear now where she lives in Virginia.
She told us we were the only audience she would read the Asheville part to. She wouldn't give that much away at other readings. We clapped and cheered for her and our good fortune.
Though I could have listened to her read the whole novel, I particularly liked the question and answer period.
Unlike some authors who begin with a period of history they're fascinated with, or a voice that starts speaking to them, she begins with a big question. A "big question so compelling that everyone would be compelled by it." Then she begins to write her way to "some sort of illumination" for herself and her readers.
She likened it to taking walk with her "favorite kind of friend" who lets her talk and talk about her problems and then at the end of the walk turns to her and says Good. Now what do you think you should do?
The book, then, should do that for the reader, once they are done. It should be that friend asking the reader, Now what should you do?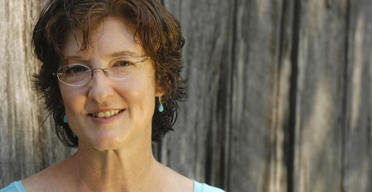 For the past 10-20 years, she said, the Big Question that had been getting at her was the tension between art and politics in America and America's discomfort with self-examination (which is what art does -- prompt examination and reflection) of itself as a nation. The idea that self-examination of our country is un-patriotic or un-American seemed absurd to her. "How can you be un-American?" Other countries laud their political-artists. "Have you ever heard of someone being called un-French?" she asked, then laughed. "Well, they do call people un-French, but that has to do with food!"
In the 1950s the US created a committee to examine un-American behavior and subsequently censored artists, so this is where she began to look to answer her Big Question. She also wanted to examine why some people get erased from history, why their contributions are forgotten.
These were the questions that led her through the writing of The Lacuna which means two things. First, it can be a cave, and one that is under the water. The other meaning is more literally "the missing part of a story." While she admits it's not the greatest title for someone who doesn't know the meaning of the word, it really was the right title, so she insisted.
Each novel she writes, she tackles a different Big Question, because, she says, "I wouldn't trouble you if it weren't important." I think that sums it up well, why her work resonates with so many people.
The best part of the evening for me was her insistence that mothering and being a writer were the perfect balance. When she wakes up, she heads first to the coffee pot, takes her daughter out to the school bus (she jokes the school bus is her Muse), and then it's to her office. "When I get to my desk, I don't waste time," she explains. She loves the revision process best, how she can "fabricate" -- make fabric -- by weaving together the sentences so that they are all connected to each other. In fact, she claims never to have had writers block, because she never had any time for it.
Then, after a day of talking to imaginary people she is pulled back from "barely controlled lunacy" by her mothering obligations, namely making dinner. Thus there is a balance that allows for both a grounding in reality and time to lose herself in her imagination.
One more year until the school bus muse visits my house. Until then, I can start re-framing the way I think in a more positive way: motherhood and being an author are the perfect balance.